Speaker Profile: Dr. David Isen
Dr. David Isen was born and bred in Toronto. After his formative years in the Don Mills area, David went to the University of Toronto and completed a Bachelor of Science degree in neuroscience.
He then went on to the University of Western Ontario and studied dentistry. Following his graduation from dental school in 1991, David was lucky to join a well-known, established dental practice in his old neighborhood. Years later, he still maintains a private practice in the same suburban Toronto location.
Following his graduation from dental school, he received advanced training in intravenous sedation at the Montefiore Medical Center in New York. As a result of this, David's dental practice focuses on those who require special care for their treatment. People who have extra sensitive gag reflexes, special medical issues, patients who have difficulty getting numb and those who have "dental anxiety" are common in Dr. Isen's practice.
"I love practicing dentistry. The hands-on aspect can be challenging, however, what brings me the most gratification is the challenge of helping others overcome their fears and concerns regarding dental treatment. In our practice, we are routinely faced with the opportunity to improve our patient's oral health. It is particularly gratifying when our team is able to do this for someone who is apprehensive."
– Dr. David A. Isen
Because of Dr. Isen's unique dental practice, he has had the opportunity to participate in the dental profession in ways other than private practice. He has lectured to dentists all over the world on topics related to local anaesthesia, medical emergencies and the use of conscious sedation in dentistry. Also, he routinely presents lectures for the continuing dental education program at the University of Western Ontario and has lectured at the University of Toronto as well. He has acted as a consultant for a variety of dental supply and pharmaceutical companies regarding product development and sales, and he has been interviewed by many different media regarding dental anxiety. David was featured in the TV shows Marketplace and The Right Fit in episodes about dental phobia.
David is currently president of the Ontario Dental Society of Anaesthesiology and has acted as an article reviewer for dental journals as well as publishing many of his own articles.
David has received honorary fellowships from The Academy of Dentistry International, The International College of Dentists and The Pierre Fauchard Academy. These societies are in part philanthropic, further the practice of dentistry internationally and recognize contributions to the profession.
David and his wife Susan (a family physician) lead very busy lives with three young teenage boys. David remains active in the community coaching his kids in sports and jogging as much as he can so that his sons don't beat him in local races.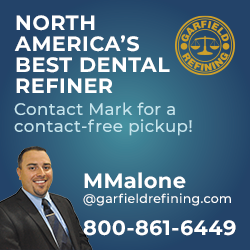 Upcoming Seminars