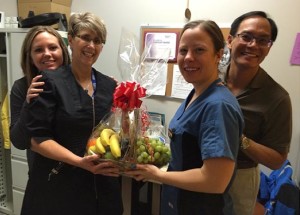 Since CUPS works with vulnerable populations, CUPS staff and volunteers need to be professional, collaborative, non-judgmental and compassionate to those they are serving.
Some important stats:
In 2014, CDDS members volunteered over 600 hours to CUPS.
266 extractions were performed on 42 Saturdays
Weekday clinics saw 253 patients including 48 children
There were 6 oral health Outreach Events.
There 13 sets of nominal fee dentures contributed.
As a volunteer at CUPS Dental you will be offering the following services:
Teeth Extractions on Friday Afternoons
Hygiene and Periodontal cleaning services
Patient Oral Health Education
Currently volunteer opportunities exist for the following positions:
General Dentists – Minimum commitment requested – 1 day every 9 to 12 months (Friday's)
Dental Hygienists – Minimum commitment requested – 1 day a month for 6 to 8 months (Weekday clinic)
Dental Assistants – Minimum commitment requested – 1 day a month for 6 to 8 weeks (Friday extraction clinic)
We ask that all volunteers are licensed to perform dental services in the Province of Alberta and are registered (and current) with the Alberta Dental Association. Simply send us a picture of your license either by email or smart-phone!
You will experience the joy and satisfaction of giving back to the community!
We are very grateful to our Volunteers for sharing of their time and themselves to help CUPS!
If you wish to volunteer, contact Dr. Muoi Leong at darthmuoi@hotmail.com. Or contact Alicia Skitch at CUPS Dental Program at alicias@cupscalgary.com or (403) 206-1060.