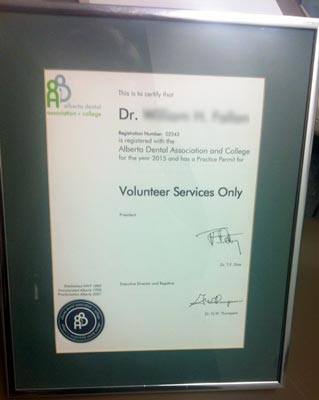 Did you know that if you are a retired dentist, you can still practice by Volunteering at CUPS!
A dental license will be granted to retired dentists (retired within a few years), who keep up on their continuing education and are in good standing with the Alberta Dental Association.
An application has to be made to the ADA and each case will be decided on an individual basis. The great news is their is no cost for the Dental License and Malpractice Insurance!
We are very grateful to our Volunteers for sharing of their time and themselves to help CUPS!
If you wish to volunteer, contact Dr. Muoi Leong at darthmuoi@hotmail.com. Or contact Alicia Skitch at CUPS Dental Program at alicias@cupscalgary.com or (403) 206-1060.