***CUPS DENTAL EXTRACTION CLINIC
RE-OPENING APRIL 21, 2017***
IMPORTANT CUPS DENTAL NEWS UPDATE!

April 5, 2017

Dear Friends and Colleagues,
CUPS is excited to announce the RE-OPENING of our Dental Extraction Clinic on FRIDAY, APRIL 21st.  Please see attached poster.
Of note, we have moved the clinic from Saturday mornings to Friday afternoons 1:00-4:00 PM. The dental clinic is located within the CUPS Health Clinic on the 2nd floor of CUPS at 1001 10 Ave SW.
Patients are seen on a walk-in basis, first come, first served.
Eligibility criteria – patients must be low-income and have NO dental insurance plan.
Prior to their extraction, patients need to see a CUPS nurse to determine eligibility and have a dental assessment completed.  They are welcome to start coming to CUPS now as a walk-in to have these assessments done prior to their extraction visit. The CUPS health clinic is open Monday – Friday 8:00 AM – 4:00 PM (closed 12-1PM).
Patients with a dental insurance plan should be able to access dental services in the community.  Patients who are low-income, have no insurance and need extractions and other restorative work can be referred to the Sheldon Chumir Public Health Dental Clinic on the 6th floor. More information about this clinic can be found on the AHS website.
We sincerely thank all of you who have been supportive of our dental program over the many years, including the dedicated CUPS dental team and Dentist volunteers.  We have appreciated a close partnership with the Sheldon Chumir clinic, the Alex dental program, and the Calgary District Dental Society as well.  Thanks to some fundraising efforts by Dentistry for All and anonymous donors, we are happy to continue this important work, fulfilling a gap in oral health care for Calgary's most vulnerable. Despite this, there is still a tremendous gap in oral health care for this population and the sustainability of the program remains insecure. Your ongoing support is much needed and appreciated.  Here is the CUPS website for more information about other CUPS programs.
Thanks again and let me know if you have any questions.
Sincerely,
Dr. Van Nguyen, Health Director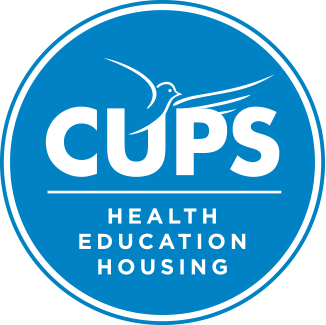 At The Calgary and District Dental Society, we are proud of our members commitment to give back to the local Calgary Community. CUPS (Calgary Urban Project Society) helps marginalized and vulnerable Calgarians and relies on donations to support its programs and participants.

CUPS was established in 1989 and is a registered charity dedicated to helping low-income individuals and families in Calgary overcome poverty through health care, education, and housing.

CUPS works with over 7,000 low-income Calgarians annually!

Dr. Kuen Chow of the CDDS executive is the coordinator of the CUPS Dental Program. Below are some videos feature Dr. Chow discussing the CUPS program.

Why Volunteer at CUPS?

See the New CUPS Dental Location!

Click here to support or donate to CUPS

We are very grateful to our Volunteers for sharing of their time and themselves to help CUPS Dental!

If you wish to volunteer, contact Dr. Muoi Leong at darthmuoi@hotmail.com. Or contact Alicia Skitch at CUPS Dental Program at alicias@cupscalgary.com or (403) 206-1060.

The Calgary and District Dental Society is a voluntary professional organization representing the dentists of the Calgary Region. It is dedicated to the highest ethical standards, involvement in the community, the provision of exemplary oral health care, and attainment of optimal health for the people of the Calgary Region.